Art for Nature and Animal Lovers

Nature Loft Art is your source for a variety
of unique, handmade items, created using natural and recycled materials.
Click on one of the links below, or click on this link to visit the studio homepage:
http://www.artfire.com/ext/shop/studio/natureloftart
______________________________________________________________________________________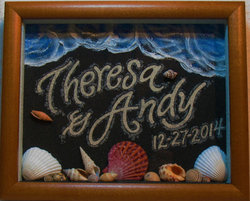 Personalized Beach paintings are great wedding or anniversary gifts!

---
Personalize this ornament with a name(s) for someone who likes their Christmas "beachy"! This also makes a great birthday gift.

Need a trinket or jewelry box to put a gift into for a special person? Or fill a box with candy or a favorite treat!
PERFECT!


Personalized Beach Paintings are available in four finishes. Three are stained wood in honey, black, or cherry finishes. The fourth finish is blue sand, painted with actual sand. It has a nice texture that fits in well with a beach theme. (More photos below.)
We have an assortment of

items that make great gifts for someone else or treat yourself:



Give a rose of a different type!


This rose is made from handmade recycled paper and tipped with acrylic paint. This box is about the size of an index card box. (See a different view at the right.)

Attention to detail and quality craftsmanship can be seen in this close-up of a Nature Loft Art box. These boxes are beautiful inside and out. The paisley design is carried throughout the piece on the swirl cut-out designs, and the felt lining, which also has an embossed paisley design. (Outside of the box shown at right.) Notice the paisley fabric is visible through the cut-outs, as well as the inside lid. The details make this box a work of art!


Nature Loft Art has sand paintings with artfully hand painted designs. The butterfly box below is a colorful example of the creative items available in the studio!


Close up view of a medium size box with a Thunderbird theme. A variety of handmade papers are used to create this box. The base is made of handmade recycled paper, and handmade corn husk paper is featured on the decoration on top of this piece. (See below for a link to the blog about how the recycled paper was made.)

This rose is made of handmade recycled paper with handmade corn husk paper leaves. The background paper is handmade recycled paper stained with natural tea and containing flecks of maroon. The box is decorated with real dried rose leaves from the home garden. The closure is made with leather cord and a plastic bead that looks like embossed copper.
---
This sand painted box has a wooden base, and is covered with colored natural sand. The hand painted design shows the beginning of this butterfly's life as a cocoon, nestled in curly, green leaves, with colorful flowers sheltering it from above.

This box is rich with details that make it special! The outside is black sand, hand painted with pink and peach daisies, matching the gradated sand on the lid, which goes from peach to white, to pink sand.

Want something unique and romantic? Check out the sand painting below, which can be personalized with your names. Beach lovers love this!


Visit our Studio on Etsy


The top of the box slides open to reveal a "secret" compartment lined with faux suede fabric, and just big enough for a few rings or earrings – the perfect place to "hide" your engagement ring for her! This can symbolize the beginning of your evolving relationship!
---
Personalized Beach Sand Painting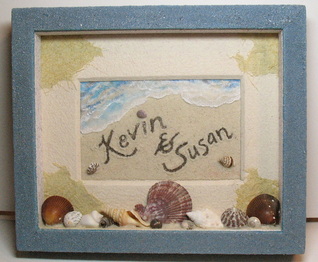 "So many people really love the beach, so it's a very popular theme for weddings and also home decor. Personalizing a gift gives it a special connection, which makes this new item a great gift idea for weddings, engagements, anniversaries, or housewarmings."
Read more in my
blog
or
click here
to see the studio listing.
---
Above is the first, original Beach Sand Painting. Below, is the redesigned Beach Sand Painting, which can be customized with names or a short message supplied by the customer! Click on the painting below to go to the listing and see what has been changed.

---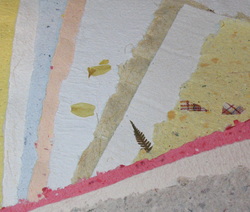 How My Handmade Paper is Made
"There are many things you can do with handmade paper. You are only limited by your imagination. It takes some practice to get skillful at forming and couching the sheets, and learning what types and quantities of chemicals are needed for processing. It is also a time consuming process, but it is gratifying to continue an age-old art of papermaking and follow in the footsteps of artisans that preceded us." Read more in my illustrated blog… Click here to go to my blog
---
---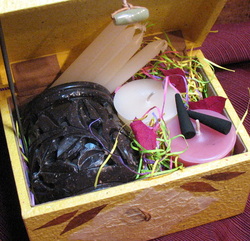 Looking for some ideas for choosing a thoughtful gift for a special person or occasion?
Click here to see!
---
---
Read About Gift Ideas For Your Dad or A Special Man in Your Life.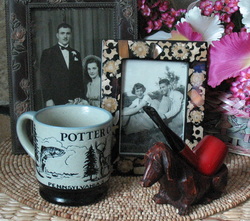 ..."If you want to gather some photos of some special times you had with your dad in a more formal way, make a photo collage using one of my sand mats, and place it in a frame for him. These sand painted mats are unique and set off your personal photos beautifully. Take a photo of all the kids holding a sign with your sentiments, and place it in the collage. The photos would really make him smile with a big sign to remind him of what a great dad he is!"...
--Read more...
http://www.artfire.com/ext/shop/blog/natureloftart
---
---
Questions?
Contact me
.
Thank you for visiting Nature Loft Art!